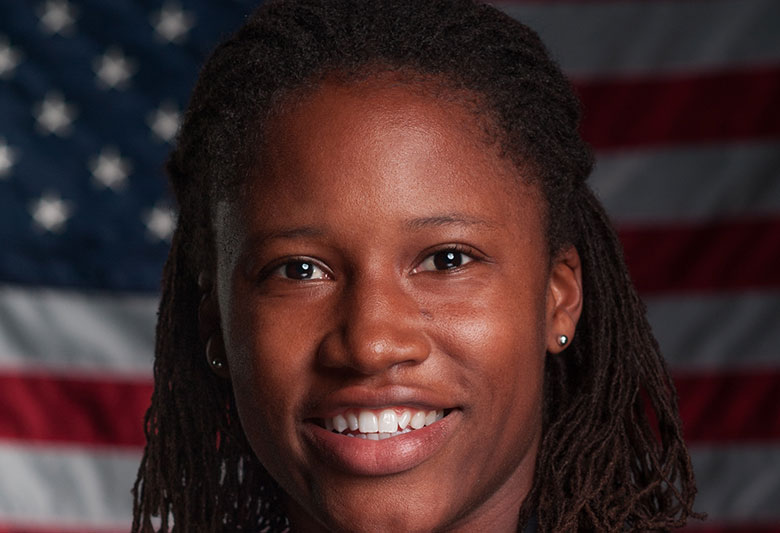 Lauryn Williams is a four-time Olympian, three-time Olympic medalist and is only the fifth person to ever medal in both the Summer and Winter Olympic games. She competed in three Olympics in track — 2004, 2008 and 2012 — taking silver in the 2004 Olympic 100m and gold in the 2012 Olympic 4x100m relay. When she retired from sprinting, she picked up bobsled, made the 2014 U.S. Olympic team in her first season and won a silver medal pushing for Elana Meyers Taylor in Sochi.
Highlights from her long list of accomplishments as a sprinter include: four-time USA Outdoor bronze medalist, 2005 World Outdoor 100m champion, 2006 World Indoor silver medalist, 2002 World Junior gold medalist. Her career highlights in the bobsleigh include a 2014-2015 World Cup gold medal for pilot Elana Meyers Taylor and silver for pilot Jamie Greubel Poser; a 2013-2014 World Cup silver in Park City #2, a silver in Lake Placid and a gold in Igls as brakeman for the four woman bobsled. She also won a bronze medal in the 2013 U.S. National Push Championships.
Williams, who competed on the track team at the University of Miami, graduated in 2004 with a Bachelor of Science degree in Finance. She was inducted into the Iron Arrow Honor Society, the university's highest honor. Additionally, while training full time during the 2008 Olympic year, she earned a Master of Business Administration from the University of Phoenix in 2009.
Because of her passion for empowering athletes with financial literacy and stability, she completed the course work for Certified Financial Planning and will soon take the exam for CFP certification.
Her long list of honors and awards include: Pennsylvania Sportswoman of the Decade 2009, Miami Alumni Association William R. Butler Community Service Award 2008, Visa Humanitarian 2006, Daper Dan Sports woman of the year 2005, Runner's World - Hero of Running 2005, University of Miami Athletic Department Community Service Award 2002-2003, among others.
Williams was born in Pittsburgh, Penn., and still holds her high school records for the 100, 200m, long jump and 4x100 meters relay.